ABouT tHe FiLm
Art is a reflection of the place from which it emerges. Tell Them We Were Here chronicles artists living and working in the San Francisco Bay Area and how they extend the historical legacy of Bay Area activism. Embedded within the art practices of these eight artists we see the most pressing issues of our time, Prison Reform, Homelessness, Racial Equity, Feminism, Environmental Justice, Income Inequality. In an age of hypercapitalism, these artists represent an empowering alternative worldview, one that emphasizes creativity and community over capital.
The film follows the work of artists Sadie Barnette, Amy Franceschini (Futurefarmers), Jim Goldberg, Tucker Nichols, Lynn Hershman Leeson, Alicia McCarthy, Nigel Poor (Ear Hustle), and Michael Swaine.
Framed within the last 25 years of art-making in the Bay Area, the film is not an all-encompassing historical document, but rather a glimpse into a select group of artists who've chosen a less worn path. It touches on the disappearance of cultural communities due to gentrification and economic instability and reminds us of how vital creative communities are to healthy societies and political change.
The title, Tell Them We Were Here, is a statement made to the director by legendary poet and author Bill Berkson. It is a reminder that We are the Archive and the champions of our own history. The stories we choose to tell, are the ones that live on in history. We hope this film represents a reminder to communities around the globe, that creativity exists everywhere, and as Camus stated "every creation is a gift offered to the future".
The supporting cast includes Devendra Banhart, Dena Beard, René de Guzman, Tommy Guerrero, George McCalman, Cliff Hengst, Larry Rinder, Apsara DiQuinzio, Glen Helfand, Tabitha Soren, Ramekon O'Arwisters, Eleanor Coppola, Ala Ebtekar, Erin O'Toole, Matt Gonzalez, Ana Teresa Fernández, Hal Fischer, Kevin Killian, Phil Ross, Jim Melchert, and Natasha Boas.
Music by Marc Capelle, Vetiver, Virgil Shaw, Clare Rojas (Peggy Honeywell), Tommy Guerrero, Kelley Stoltz, Devendra Banhart, Fruit Bats, Monte Vallier, and Pat Mesiti-Miller.
Run time: 1 hour 28 minutes
FiLmMakers
Griff Williams is an American painter, publisher, and gallerist. In 1993 he founded Gallery 16 and the pioneering fine art printmaking workshop Urban Digital Color in San Francisco. The exhibition and publishing program has worked with hundreds of artists including Lynn Hershman Leeson, William Kentridge, Deborah Oropallo, Jim Isermann, bell hooks, Rex Ray, Margaret Kilgallen, Mark Grotjahn, Paul Sietsema, Arturo Herrera, Michelle Grabner, and Ari Marcopoulos.
Williams has also designed and published dozens of acclaimed books with the Gallery 16 Editions imprint. His recent books include The Gay Seventies: Hal Fischer (Gallery 16 Editions) and a monograph on the life and artwork of the late San Francisco artist Rex Ray including essays by Rebecca Solnit and Christian Frock (Chronicle Books).
His paintings have been exhibited in galleries and museums including the San Diego Museum of Art, the Crocker Art Museum in Sacramento, and the San Jose Museum of Art. His work has been reviewed in Art in America, Flash Art, and Artnews.
Keelan Williams, born and raised in the Bay Area, is a filmmaker based in Los Angeles, California. He graduated from Loyola Marymount's School of Film and Television Production. Williams has directed, produced, shot, and edited short films, documentaries, concert films, and music videos.
His first short film, Everything Old Is New Again, was an Official Selection at The Big Sky Documentary Film Festival and was nominated for Best Documentary at Film Outside the Frame. Tell Them We Were Here is his first feature length documentary.
UPcoMinG ScreEninGs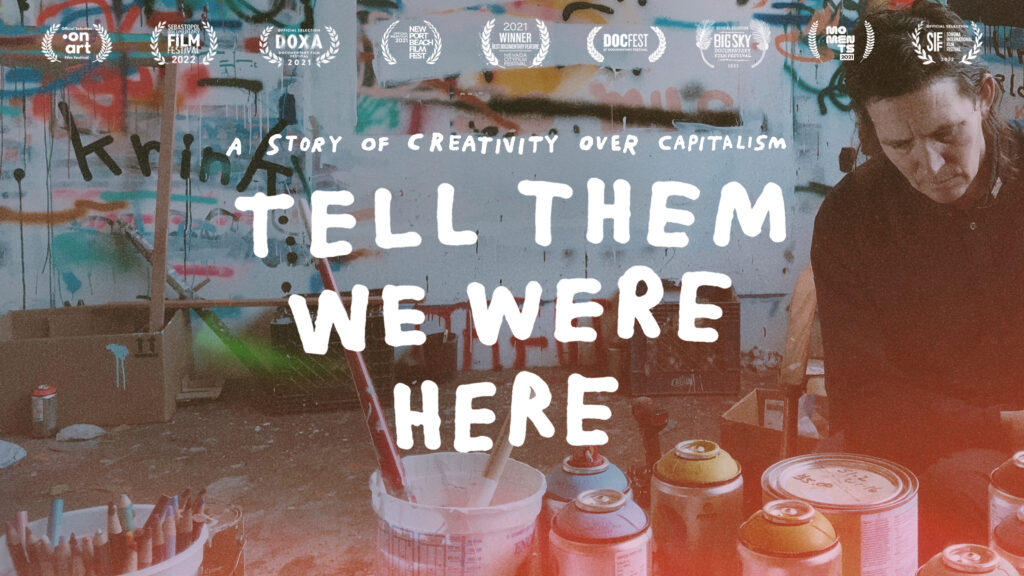 Saturday, September 23rd, 2PM
at San Francisco Public Library (Koret Auditorium)
An afternoon screening followed by a conversation with filmmaker and artist Griff Williams in conversation with Nigel Poor, photographer and co-founcder of the award-wining podcast, Ear Hustler. Tell Them We Were Here chronicles artists living and working in the San Francisco Bay Area who follow a path that is less careerist and more community driven.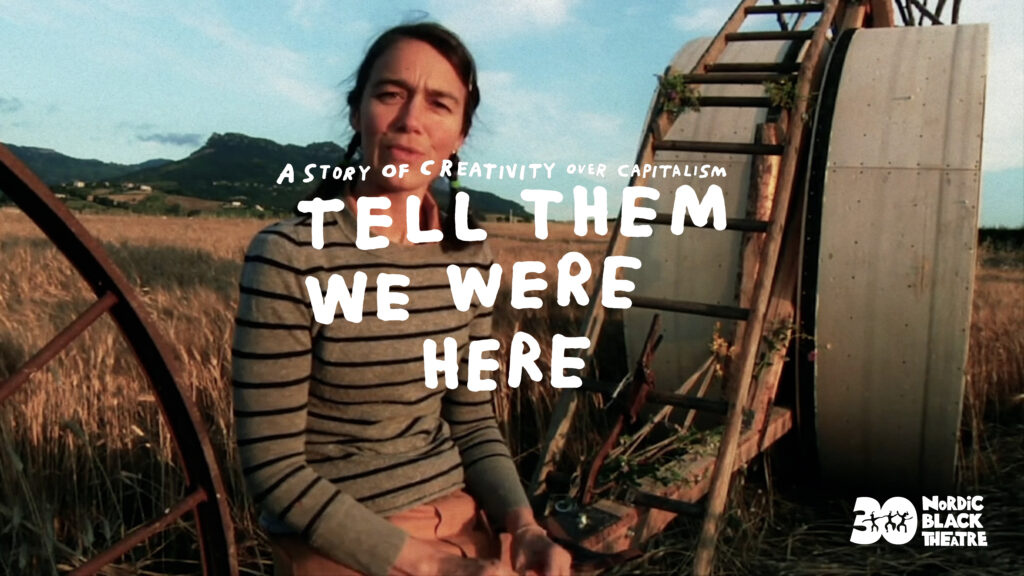 Screening at Nordic Black Theatre in collaboration with Losæter and Gallery 16
Friday, September 29th, 5PM
at Nordic Black Theater, Oslo (Hollendergata 8)
A very special afternoon screening of Tell Them We Were Here in Oslo. In 2011 Futurefarmers was commissioned to develop a permanent work in Bjørvika in Oslo. They formed Flatbread Society as a proposition for working with local people to establish an aligned vision for the use of this land. From this grew Losæter, a museum without walls at one of Bjørvika's seven commons. Losæter is a modern park with edible plants and a vibrant community.
Request a ScreEning
Please fill out our screening request form here and we will contact you!
ReActiOnS to ThE FilM

[T]he Williamses see art as more than the exclusive domain of museums, galleries and collectors, but as an essential component of a healthy society — something that can make communities not just more beautiful, but more functional. [Read full review here]
—G. Allen Johnson, San Francisco Chronicle


Structured as a series of intersecting, beautifully photographed studio visits and conversations, Tell Them We Were Here shows how these artists have engaged with the legacies of Bay Area activism and social consciousness through their work. …They reflect on the influence of historical counter-cultural movements, as well as contemporary social and economic challenges, in fostering an art scene less concerned with money and power than with imagination, innovation, community, and care.
—Kate MacKay, Associate Film Curator, BAMPFA


Griff Williams and his filmmaker son Keelan Williams, came to the mutual conclusion that the Bay Area's progressive politics and its special, often-defiant otherness naturally reflect in the work of the region's visual artists. [Read full review here]
—dsmiller, East Bay Express


Griff and Keelan Williams' feature pays tribute to San Francisco as a longtime "refuge for weirdos and artists" whose makers continue to expand notions of what and where art can be, as well as who can make it. [Read full review here]
—Dennis Harvey, 48 Hills


This hopeful yet realistic tour of the artist community offsets the prevailing worry that San Francisco's artistic mojo is getting snuffed out because of skyrocketing rents and other Big City maladies. That doesn't paint a complete picture, the father-son filmmaking team of Griff and Keelan Williams observes in Tell Them We Were Here. Their film acknowledges the hardships of living here and the hobbling effects those have had on the creative community. But their focus mainly shifts to highlighting and celebrating resilient Bay Area artists who are — as the film's title attests — eking out a modest living while they create and inspire and put community and connection over profit and fame. [Read full review here]
—Randy Myers, Bay City News Foundation